"Your [insert weapon name here] is badly damaged." Every time I see that phrase, I cringe. I'm all for limited weapon durability, but these weapons break more than Jimmy Fallon on SNL. Don't get me wrong I love the game, it's the best Zelda since Ocarina of Time, I just wish I had more time to use the variety of weapons Breath of the Wild has to offer.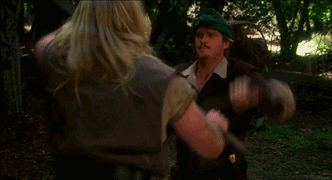 The only non-breakable weapon in the game is – of course – The Master Sword. However, it only has a limited "charge" and once that has been depleted, you have to wait for it recharge. While I get that this adds a certain amount of difficulty to the game, there comes a point when you want to throw your controller at the TV. My inventory is full of Woodcutter's Axes just so I have something to swing at enemies that doesn't shatter into a million pieces after 4 or 5 hits.
No matter how much it annoys me, I'm not giving up. Because if I do, Calamity Gannon wins.
The Legend of Zelda: Breath of the Wild is out now for Wii U and Nintendo Switch.